Aside from aesthetic considerations, the selection of outdoor tiles is dictated by safety considerations. For outdoor applications, it is critical to choose tiles that are resistant to slipperiness, which is a characteristic that should be considered while selecting tiles (tiled terrace, pool area). Another significant consideration is that the coating must be able to endure exposure to frost and other elements.
The outdoor tiles have received a great deal of praise both inside and out. Its success is due to the fact that it is very resistant to compression, shocks, and scratches. As a result, in this post, you will get all of the information you need to make your outdoor tiles selection.
Choose an anti-slip tile first and foremost for your own safety!
Our first piece of advise is, without a doubt, the most vital factor to consider. The tiling of your outdoor space must provide security for all of the residents of the home as they go through the space on a regular basis. You must be able to walk comfortably on it, and the children must be able to run on it without the fear of sliding when the first drop of rain falls on them.
It is essential to choose and purchase non-slip outdoor tiles from reputable tile suppliers in order to avoid accidents. Also, while making your selection, keep in mind to refer to the many standards available.
The adherence of the tiles to the shod feet is indicated by the slip standard R, which is:
R 9 indicates normal adhesion
R 10 indicates medium adhesion
R 11 indicates high adhesion
R 12 indicates strong adhesion
R 13 indicates solid adherence.
Your tiling must be able to withstand the amount of traffic.
It is necessary to take into consideration the pace at which the residents of the home travel over the terrace. When selecting your tile, it is possible that the PEI standard will be mentioned elsewhere.
It is separated into five categories according on where you want to utilize your tiling:
The bathroom and rooms for barefoot passage or with flexible soles are located in PEI 1; the living areas, with the exception of the kitchen, and the entrance are located in PEI 2; the entry is located in PEI 3.
The kitchen, corridors, balconies, loggias and terraced residences are among the areas where people often pass through.
Hotel rooms, kitchens, exhibition halls, and galleries are examples of PEI 4 environments. PEI 5 environments include airports, retail malls, and other places where people spend a lot of time in open spaces for extended periods of time.
Note: For outdoor use, use a standard PEI 3 tile in a light color.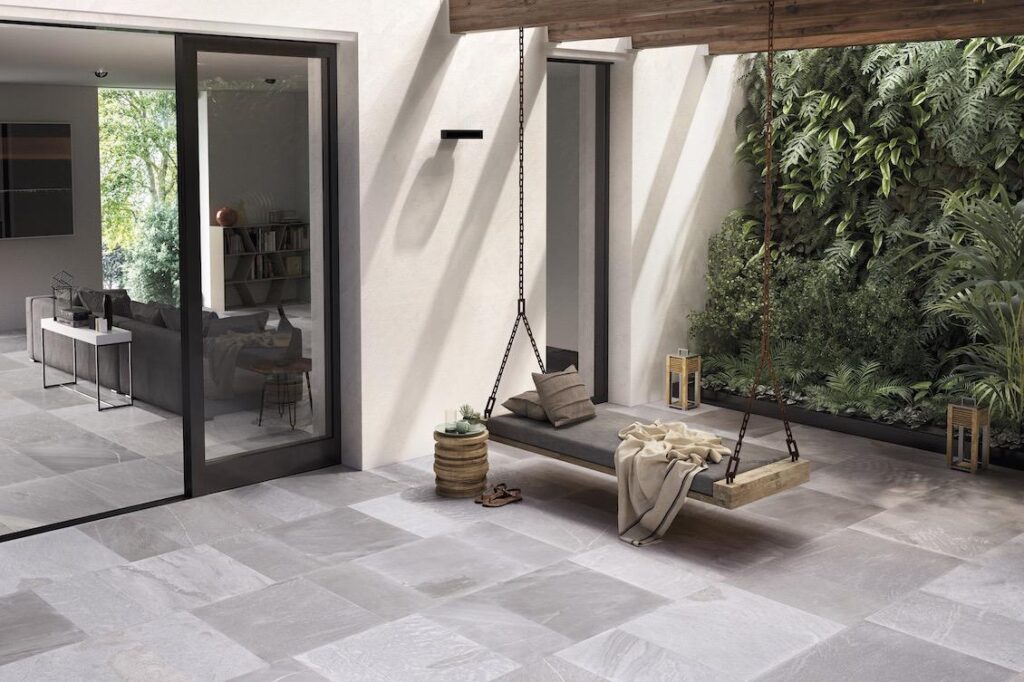 Choose your outdoor tiles based on the climate in which you live.
Winters may be very cold in certain parts of the world, while summers can be blazing hot in others. As a result, it is advised that you choose your outdoor tiles in accordance with the temperature of your area. In reality, frost or heat shock caused by abrupt temperature fluctuations may cause significant damage to the outdoor tiles on your patio, including cracks, scratches, and other imperfections.
Also, if your patio is exposed to direct sunlight for the most of the day, be sure that the outdoor tiles you choose have been coated with anti-UV protection before purchasing them.
The majority of outdoor tiles are naturally slick. However, when damp circumstances are present, the degree of traction might be significantly reduced. It is possible for outdoor tiles to become even more slippery when it rains, ice melts, or snow is falling. If left addressed, this might result in potentially hazardous slips and falls.
What causes outdoor tiles to become slippery in moist circumstances
The surfaces of most porcelain, ceramic, and marble outdoor tiles are generally smooth and glossy. Some outdoor tiles are also available in a glossy or glazed surface, which provides very little traction. This kind of tile is often selected by homeowners because it creates a sleek and attractive look when laid down. It is important to note that when it is raining or there are other damp conditions present, the coefficient of friction (COF) decreases dramatically. The coefficient of friction (COF) is a measure of the relative capacity of a flooring surface to resist the sliding of a certain substance (such as a shoe sole).
If your outdoor spaces have a smooth surface and there is moisture present, it is possible that your family, friends, and visitors may be in danger. So, what is the best way to create non-slip outdoor tile surfaces?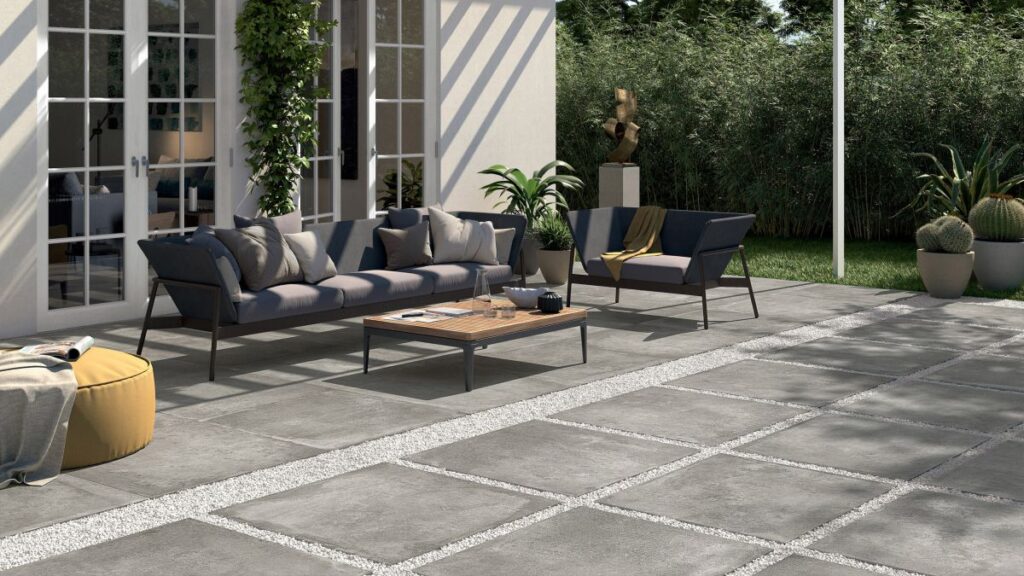 Find out where to obtain non-slip outdoor tiles.
Outdoor surfaces such as patios, entrances, outdoor stairways, and pathways are all suitable for tiling. Most of the time, they are high-traffic locations. SlipDoctors advises that you use a non-slip tile solution on these outdoor tiles in order to improve their traction. It might be difficult to choose the best anti-slip coating for tile floors since there are so many options on the market. Here are some tips on how to choose the best anti-slip coating for your outdoor tiles. Every product does not provide the same amount of grip, durability, or finish as another. Some may alter the appearance of your outdoor tiles, while others may corrode or chip more readily as time passes.
Stone Grip is one of the most effective treatments for treating outdoor tiles because of its versatility. A non-slip coating that may be applied on outdoor porcelain tile, non-slip outdoor ceramic tile, and non-slip marble tile floors can be achieved by using this method.
stone grip is an anti-slip tile treatment that is supposed to greatly enhance traction on slippery surfaces, even when they are wet, even when the outdoor tiles are not wet. This product makes tiny treads on tile, concrete, and stone floors in minutes, increasing traction. All porcelain, stone, and ceramic surfaces may be utilized without the look of the surface being altered.
Using a sprayer, microfiber T-mop, or Stone Grip Applicator, you can quickly and easily apply this non-slip outdoor tiling solution to your patio or walkway. Once applied, the slip resistance will exceed the standards set by the American National Standards Institute (ADA/ANSI) for floor safety.
Invest in anti-slip outdoor tiles to keep your feet safe.
Whether at home or at business, if you have an outside space, it is your obligation to ensure that it has the necessary traction to keep your family and friends safe while they are out there. Outdoor tiles may be quite slippery, especially when there is a lot of moisture present. If you wish to prevent major incidents, you must treat these outdoor tiles as soon as possible once they have been discovered. Anti-slip tile coatings significantly reduce the likelihood of slips and falls occurring immediately. Also read: A detailed overview on what a buyers agency is